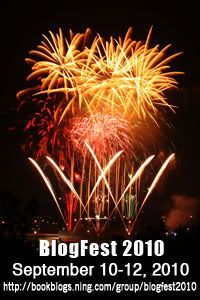 It is my supreme honor to be a participant in Blogfest 2010. This is my first year as a participant, and I am so excited to be among so many talented bloggers.
I am also super stoked about what I have to offer as my giveaway!
Are you ready for it.....
Tiffany's Book shelf is giving away, for Blogfest 2010...
Autographed copies of Maggie Stiefvater's
Shiver
and
Linger
.
How cool is this prize? You know you want it right?
So, here are the rules, they are pretty simple:
1. You

must

be a follower of Tiffany's Bookshelf to enter.
2. Contest is open to US and Canadian residents only.
3. Contest will run from 12:00 am 9/10/10 to 11:59 pm 9/12/10.
4. To enter, simply leave a comment with your name and email address.

No email, no valid entry.
That's it. Pretty simple right? I hope you think this is as awesome as I do, and I hope you take some time to look around on my blog before you move along to the next blog on the party.
The next stop on Blogfest 2010 is
The Bookworm's Library
so once you are done here, please head over to that supremely excellent blog to continue the fun.
Also, don't forget about the massive BlogFest 2010 grand giveaway! Head on over to
http://ajourneyofbooks.halfzero.net
and click on the Tracking Site link to head to our own exclusive tracking site. Once there you can register with a valid email address (to be used solely for the purpose of contacting the winner). This site will allow you to track your progress through BlogFest 2010! You can log on from anywhere at any time and continue where you left off. The best part is that every blog that you visit and mark off through this tracking site will give you one entry into the massive giveaway! We have a great collection of books, goodies and other swag that is looking for a new home!
Thanks so much for participating in the Blogfest 2010 fun!